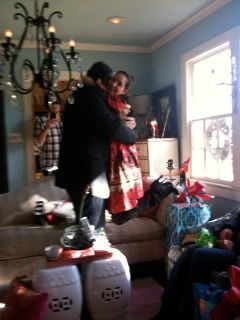 It's his birthday weekend. Which means I'm in Houston. Christmas Day he knelt down in front of me, his siblings, her Mother and siblings and proposed to Jennifer Ann Cobbs, pretty as you please. My perfectly coiffed living room was the perfect setting. No dry eyes in the room. Tears of immense joy.
Tyler. MY eldest son.
This weekend we are celebrating two fold. His birthday and visiting the venues for upcoming nuptials.
We left his downtown, 17th floor loft (another whole post!) early this morning and I spotted a homeless man. The weather is a cool 33 degrees and I cringed and commented. I learned that the bench he occupied "belonged" to him. Tyler then nonchalantly mentioned that he called the paramedics last time he talked with him. His legs were extremely swollen. The man refused medical care. A couple days later Tyler called the paramedics yet again. He later learned they drained some 30-40 pounds of fluid from his legs alone. Tyler and his dear friend Alex purchased him a small butane operated heater. A lady recently brought this gentleman and his friend on the opposite side of the street (who occupies another bench) Eddie Bauer sleeping bags. I am heartened to know he's not cold. We discussed both homeless men as we drove to Tyler's office. He told me of recently having an epiphany while walking thru the church. He smelled hairspray, and somehow his chain of thought went to hairspray/homeless. He referred to how we need the smell of homeless as much as hairspray in our churches.
Tyler. My son.
Breakfast out is my big thing and we have plans. I'm penning this as he finishes his duties. Today we'll hang out, we have much on our agenda. After Jen gets off work, we have a list. I'm meeting aunts, perusing the wedding menu, visiting the venues, and sketching away! Then we'll have dinner at Cousin Rhonda's. FULL day.
But I'll be with Tyler...all day. I absorb him. I watch and listen. I hold his arm when we walk. I stare at him across the dining table. I try and memorize as much of him as I can as it will be another few weeks before I see him again.
Gotta go. We're going to breakfast. So I can stare at...
Tyler. My son.