Those are my tears. Blue today, school started and I no longer have children school age. They are grown and for now 2 of the 3 are living in different states. In Nashville last week I spent sporadic time with all three. Leaving them alwaysalwaysalways makes me blue.
So, I surfed blogs for inspiration, happiness. Foolish I know, but finding pictures that are awe-inspiring help.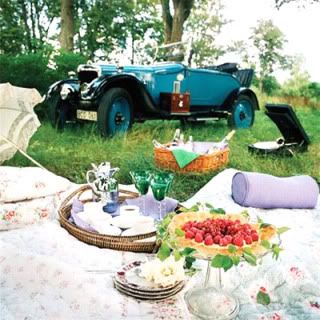 I want to drive this car to this picnic. I picture my 3 and Jen there with me. We all have new books we are dying to crack the covers on. I have plenty blankets and pillows for us to stretch out on.
Silly I know. Just looking for smiles. Think that car and a picnic will help?