My cell phone rang. The lady on the line reminds me that I have not blogged in quite some time. How well I know. Maybe that is what I needed, a kick in the pants. Here is an overview of life as of late.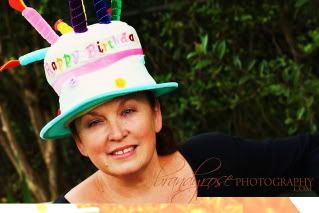 I began celebrating my birthday Sunday a week ago (it was last Thursday, the 26th). I love birthdays and simply extend mine as long as I possibly can. SOLO met at my home Sunday evening and we had a cake for the March birthdays. I blew out candles then. Tyler and Jen arrived from Houston late Monday evening. I cooked Tuesday night and we hung out at the house. I crave just being at home with everyone is in town.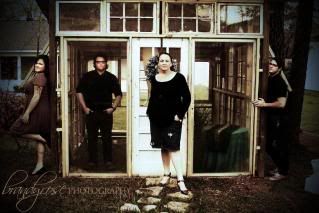 B'day photo op
An incredible group of friends took me to Back Door Cafe after church Wednesday evening. Got myself a Walter Anderson print at that soiree.=) The kids and I went to breakfast together the morning of my big day, and when all is said and done, what more could I ask for? All my ducks were sitting with me at the breakfast table. My children did me the honor of sitting for a photo op with Brandy on my special day. For this I am eternally grateful. We then had a late lunch with Nanna. I celebrated the evening with the ladies at Woodlawn. We had a wonderful party celebrating the birthday of every single lady in our church and it just happened to fall on my birthday! How lucky was I? I told them I'd never had that many people singing to me at once. They all pretended the entire party was for me...I let them=).
My friend Mary asked me to reserve Saturday evening to celebrate with her. She arrived at my home with my 3 sisters, Lisa and Tonya in tow. She had me a hot pink boa, a scepter that said "birthday girl", a crown with pink fur on it, glasses with happy birthday written above the lenses, a "birthday girl" banner, a champagne flute with tall candles painted on it, sparkling juice and strawberries! All this and I've not mentioned that she painted birthday hats along with "birthday diva" and my name on her Jeep windows! I was laughing so hard. We had dinner at Walnut Circle Grill. Can you imagine the laughter at the table? The evening was fantastic. I absolutely will never forget last week. My new friend Raylyn has a snazzy red convertible and I topped off the week with a ride to Hattiesburg Sunday afternoon to celebrate Mitch's birthday. (In my mind the ride was for my birthday.)
Monday was the first day in quite a few that didn't feel "birthdayish". I hate to see it go! Please....just once more...Happy Birthday to me.=)