So. I've been busy. Snowed under. And actually have been to snow country. I've missed visiting with ya'll. I'm hoping to get on track and be here more often. Sorry to have been scarce of late.=)
As usual, I had to take the "arms flung in the air happy" picture on the slopes in Breck (the locals call it this).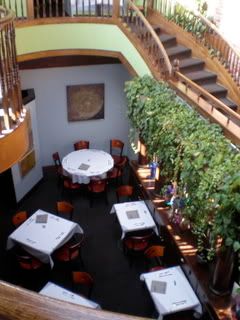 Modis. A grand restaurant right on Main Street. Exquisite art and beautiful food.
Downtown is colorful. Snow was piled high and I stayed in complete awe the entire visit. Maybe it's the snow, but I can safely say that Breckenridge is the most gorgeous place I've been in the United States.
I promise more soon...details on how I was sure I was dying my first day there....=)