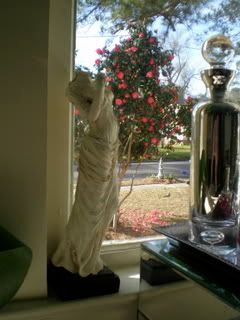 (View from my window this very morning)
On my morning jaunt to my coffee maker, there is a large picture window in the living room framing a massive camellia bush. This time of year, an involuntary smile beams with each passing. My camellias are blooming. There are literally hundreds of blooms on this bush and all of them just for me.
How well I remember the first Valentine's Day as a single lady. I would literally cringe thinking of "that day" coming. How vivid the memory of leaving work and going to the mall is. I bought myself a wonderful gift, my very first fountain. Somehow in our minute minds, we build up these expectations over silly things that absolutely do not matter. At that point in my life, Valentine's Day was a glaring reminder that I was a failure. I was one of those who had the table set in bold red for 2 solid weeks. I baked a heart shaped, strawberry flavored cake each year and celebrated wildly. And the arrival of this day which I wrongly assumed was for couples only, made me as crazy as a sprayed roach. There are many Valentines in my life and it's my duty to celebrate with them. My children and sisters now receive my adoration.
My co-workers got the biggest laugh over me buying my own gift, but it was the beginning of a healing process. I was my own Valentine! Come the next year, I purchased a red wheelbarrow for myself. Again, a gift for me. Every year I get extremely wonderful gifts (exactly what I want!). And the good Lord above sends me the biggest bouquet of all, a full blooming camellia bush in my very own front yard.
It's quite special being His Valentine.=)