(News! I have been published for the first time. Hooray! The following article was published in the February issue newsletter of New Beginnings, the Anna Grace Farmer Adoption Center in Tupelo, Mississippi.)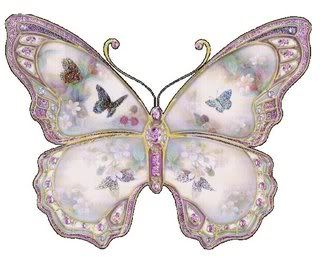 Simply put, she was a rare, incredibly beautiful butterfly. A minister made reference to this at the service celebrating her too-short life span of 8 months. He explained that it felt as if we all had nets and were forever trying to "catch" her. She would come close and we would shower her with love and adoration, so desperately wanting her to stay. Then she would flit away, just out of reach in the ICCU where her family would stand at her bedside and ask God for a miracle.
Anna Grace Farmer, along with twin brother Wallace, was born October 7, 2003. Her beaming parents were Tonya Wallace Farmer and Clayton Farmer of Columbia, MS. Maternal grandparents were Mr. and Mrs. Thomas L. Wallace also of Columbia, and paternal grandparents, Mr. and Mrs. Clelly Farmer of Poplarville, MS.
Phones rang incessantly the day it was found out there were to be twins. Soon, a pediatric cardiologist was to give some disturbing news. While still safely ensconced in her mother's womb, a heart defect was detected. HLHS (Hypolastic Left Heart Syndrome) would require a series of surgeries upon her arrival into this big world. Children's Hospital of Philadelphia in Pennsylvania specialized in caring for newborns with HLHS, and her parents, along with maternal grandparents, moved to the big city for the much awaited birth of the twins. A very short 18 hours after her birth, Anna Grace went in for the first of her multiple surgeries.
As autumn approaches, a special generation of butterfly is born. The monarch, born to the "Methuselah generation" lives to be seven or eight months old and performs the incredible feat of flying from Canada or the United States to the center of Mexico, up to 2800 miles. Even on cloudy days, their mere half ounce body stays on track with an internal compass, covering some 50 miles per day. They return stateside during spring.
Though Anna Grace had an inconceivably short life span, her mark is domestically and internationally lasting. The Anna Grace Farmer New Beginnings Adoption Center in Tupelo, MS places children with a bleak future into Christ-loving homes. The New Beginnings home for unwed mothers has a direct connection for placing babies that have been saved from abortion.
On an international scale, a water well has been dug in honor of Anna Grace Farmer in Lome, Togo, West Africa at the Institut Biblique de Togo (Togo Bible Institute). This well supplies fresh water to the local village and to the bible school which carries the Word of God into eleven countries in the nether regions of Africa.
The legacy of this tiny butterfly has spread far and wide. Children are taught to love God and are raised in God-fearing homes as a direct result of her life. The plan of salvation and Jesus' love is taught to those abroad who would never otherwise be exposed.
God has smiled on the Farmer family and they now have Gracelyn Alexis, a beautiful, rambunctious daughter who will soon be two years of age. Big brother Wallace celebrated 5 years in October. A bronze of a little girl with arms uplifted and butterflies lightly resting on her, marks the place Anna Grace was laid to rest. On any given day you will find a couple of small cars and a dinosaur in the lap of the bronze that big brother Wallace has left for her to "play" with.
The 5th year anniversary of her passing was celebrated last May with the announcement of the fresh water well to be dug in West Africa. Wallace and his Sunday School class released balloons to "heaven" for Anna Grace.
Anna Grace is proof positive that though your heart may not be perfect, through God all things are made new. And though it seems impossible, a lasting effect can be had from imperfection being made perfect through Him.
Amazing that such a small life can bring such beauty to the earth and have such a profound influence on the world, be it the half ounce butterfly or the short life of Anna Grace Farmer.