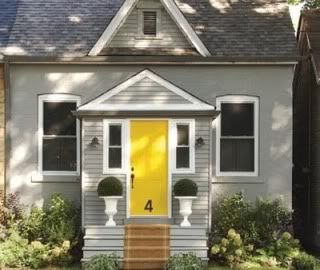 I LOVE that door. It tells a tale about who lives there. And look at the house number. I'd wreck should I pass and catch sight of that entrance! Imagine that door without color, say pale grey, even black. The house would absolutely not have the character you see. Your front door is your calling card. It's what sets the tone of the exterior look of your home. May I beg you to please not be afraid of color? I fully agree that a stained wooden door can be just as beautiful, I just suggest a very interesting door if you're going with stain. By interesting I mean not your standard paneled wooden door. In the above pic, the symmetrical urns and ball boxwoods are the perfect accoutrement for this setting. The door is to that house what a fantastic pair of Italian-made Manolo Blahnik shoes are to a woman's outfit. The urns are the purse.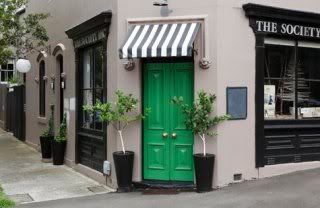 Ahhhhh. Just look at that color. Yes, the striped awning is also awesome and I agree not likely to be on your front door. But, I want you to look at the neutral taupe color of the building paired with black as an accent. This is an example of a way to make a very neutral home pop. Imagine that door a basic black. Makes me sad to think of it.=) Oh. And look at "her" purse! Don't you just love the tall pots and lanky trees?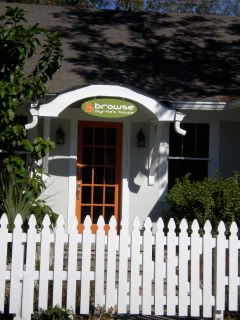 I took this photo in Ocean Springs. I was drawn to the bold orange. Look at the eyebrow above the door. So inviting.
I'm throwing this in for a good measure. My interior kitchen door is exactly this color, solely from me finding this picture. I simply had to have it. Not only does color go on your front door, it can make you smile each time you enter a room.
I readily agree that you're not likely to find this door, architecture, nor plants in the South. But I still wanted to share. This is what I'd refer to as an interesting door. I can see it stained a lovely pecan. For me, it would be that perfect shade of pink you see.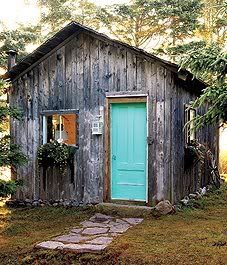 Even the shed door deserves color. The barn, the greenhouse, the outhouse? Paint the door! It's one of the least expensive things you can do and get the most bang for your buck. Be conscious of your front door and it's surroundings. Remember, it tells a tale and sets the tone for your home.