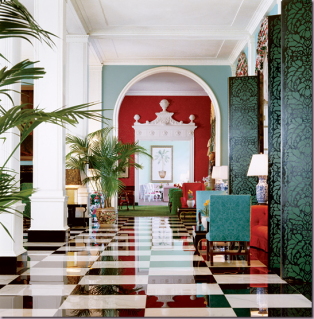 (via)
Until I found this picture, I had no idea that I LOVED shiny floors. This shot knocks my socks off. Look at those turquoise velvet chairs. Notice the softer version of turquoise on the wall reflected in the mirror? Or is that even a mirror? Ohhhhhh, I don't care. It's ALL flippin' gorgeous. Of course a hotel staff is what it would take to keep this spotless. And therein lies the answer. The Greenbriar.
No doubt, an extrovert imagined up this room.
So. I've decided. Oh yeah. I want shiny floors.