Can I somehow get across my LOVE of this picture??!! Ye Gads, the art above the bed. I love large bold artwork. The pure white down comforter, always my personal choice. Juicing things up with the bold pillows? Stops my heart. The oval table at the foot of the bed with a hat on it? Help me, Jesus! And all at water's edge? I'd not survive just a walk thru of this gorgeous abode. But wait! Is that the lady of the house beside the pool? HA! And she's hugged up to...the pool boy?
I shall close my mouth...well actually stop referencing the below image right here.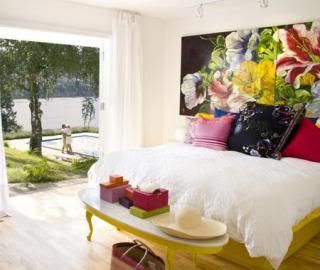 Oh wow. My mind is ONE FAT JUMBLED mess from having so much to tell all of you.
Went to Nashville to see my two youngest ducklings. My son is now lead guitarist for a new Christian band named Ryan Larkins (pictures to follow). I rode along with 3 girlfriends headed to a college reunion, not my alma mater. The band my son is in was opening for the reunion. I LOVED watching him play. He left the next day headed to a gig in another state. Hence giving Tay and I some quality time together. We shopped and simply hung out. We do that best...and love it.
Got home and 24 hours later headed to Houston. Cousin Amanda rode along for company as I made my last trek before the wedding of my eldest son. It was a whirlwind trip but necessary. Details and pictures of the wedding are surely to follow in May.
Returned on Wednesday evening late only to start an event early on Thursday for some 500. My dear friend and I collaborate on all things of this magnitude. It was a roaring success, due to an army of professionals.
Which brings me to today. A tired day, but one I am trying to rest up to leave yet again Tuesday. I am off to the Big Apple for several days. Yes, I understand your jealousy.=) Blogs from NYC are promised.
I return to load up and head to Texas for the wedding!. Am I now forgiven for not blogging as of late?
Judy, the box made me cry. You shall hear from me when life slows a tad. I love you.
Ok, back to the pool boy. Do enjoy that pic.=)