A fabulous new trend is the art wall. Some absolutely have no rhyme or reason, others are perfect symmetry. But the fun part is, you make up your own rules.
Take the picture below. Do you see a theme? Matching frames? No. But it's beautiful and arresting.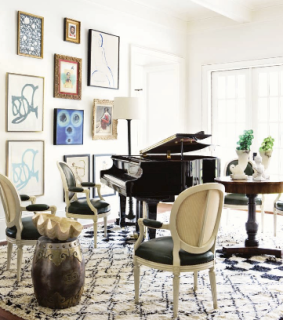 (via apartment34.blogspot.com)
Now, this one is exquisite. And notice the black frame in the center area. I'd be delighted to walk up and peruse for a few minutes. My mind would be racing as to why these prints were picked. I'd imagine stories of dear Aunt Nellie who studied art in Paris leaving the owners a couple of signed ones.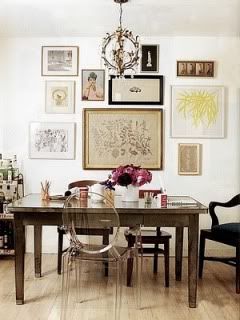 (via thecitysage.blogspot.com )
Then you have the OCD person who demands symmetry for survival. Mr. or Ms. Pottery Barn. They love this wall. It's still the fresh new look of an art wall, yet so modern and crisp. Also themed in framing, only black or white frames.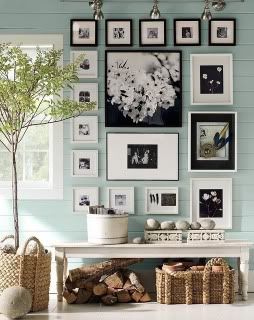 (via potterybarn.com)
Which do you prefer? Moi? I'm the flea market, anything goes, out of the attic junker. I love the oddity of nothing matching. I have a piece I picked up at a Paris flea market paired with something my elderly friend painted. And my art wall is one of the favorite places in my home. It's a definite conversation starter.
(via apartment34.blogspot.com)
Go on. Do yourself and art wall. It'll make your guts smile.