Hey loves'. As of late there has been so much hype surrounding Bali. And I do say hype in the positive of senses. The book Eat, Pray, Love by Elizabeth Gilbert has created an absolute travel boom. That said, I must mention the movie starring the exquisite Ms. Julia Roberts, though I prefer mentioning Javier Bardem (quite possibly the most beautiful male walking this planet).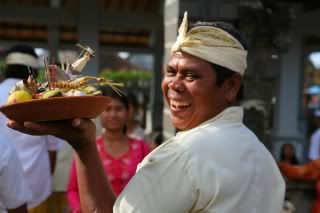 I want THAT exact guy from THAT exact picture bringing me THAT exact platter to an outdoor table overlooking crashing waves. I have an adventure planned for October, but it's stateside. I'm craving an adventure that takes me far across multiple oceans.
Every picture of Bali I see screams tranquility. (I'm laughing at myself for using the words scream and tranquil in the same sentence.) Somehow I know there's an open-air-thatched-roof-huge-down-covered-egyptian-cotton-sheeted-bed room for me to sleep in. I want to wear cotton caftans and slide my feet on tiled surfaces to hear the scrape of my corn husk thingy slippers. A hammock hangs nearby with a small bell attached to ring for service. "I'll have a pineapple/mango smoothie", I hear myself request of the wait staff. All this with the soothing sound of breaking waves. Sigh.
After a relaxing day of nothing (meaning a massage, pedicure, book reading, facial, then hair mask) I'd dress for dinner and head to the market.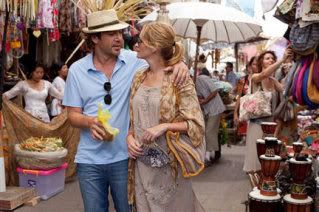 THAT market with fat umbrellas and handmade baskets piled high. You knew I was going to say it. THAT man to lean on would complete this perfect picture in my mind. I'd stock up on spices to smuggle home and definitely swipe a menu.
What's life without a dream.
Today's dream? Bali.