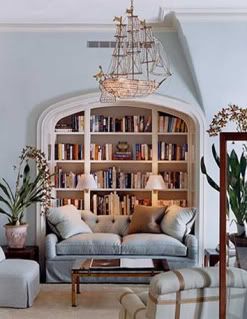 They are a requirement for MY perfect room. I have on many occasions given absolute life to a room with "doing the bookcases". There is a site where you can buy leather books by the foot. Meaning you give them measurements of how much space you need to fill, the colors you prefer, and they ship you books. Me, I hit the local thrift stores and buy them in bulk for clients. Remove the tattered dust jackets and reveal lovely leather bound volumes. The arrival of the internet has made gorgeous sets of encyclopedias readily and inexpensively available.
Nothing cozies up a room and says "we live here" like books. In a perfect world, I'd add bookcases to my living room and a wall of them in my dining room. (Books would certainly share space with beautiful serving pieces in the dining room.)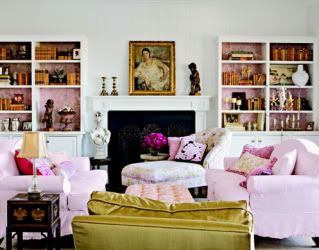 Arrgghhh. This is MY perfect room. Bookcases (with books and tchotchkes), pink, a chaise lounge, bust, oil, fireplace and fresh flowers. Dang, I'm such a girlie girl. I LOVE the wallpapered back in the bookcases. (The only thing missing here is a chandelier and I'm just positive it's simply out of view!)
I'm amazed at how many times I have to inquire about books when working in a client's home. The answer is more often than not, "We have plenty. They are inside these cabinets." Get up now and go dig them out. Calling all books! Put your lamps on them. Fill a tray with them. Have some on each table surface in the room. By all means, do not leave them in the cabinet.
Fill up your bookcases.
Images via
here