When you're told it's going to snow, and you live in south Mississippi as I do, you just sorta smile and give a nonchalant "uh huh". As was the case yesterday evening. I was pleasantly surprised to see the flakes falling around midnight. The streetlight in front of my house provides perfect illumination. When I did retire for the evening, the deck just off my master bedroom was white. I hated that the snow decided to arrive during the night, and figured there would be some remnants when I awoke.
Six am brought heavy dripping sounds, and I simply didn't want to get up. I was hearing what I thought was the snow melting from my roof. I pulled my sleep mask on, and snuggled back in. Three hours later when I rolled over with that "ahhh, I've slept good it's time to get up I'm rested" feeling, I was astounded. Fat, fluffy flakes were still falling, it was a winter wonderland.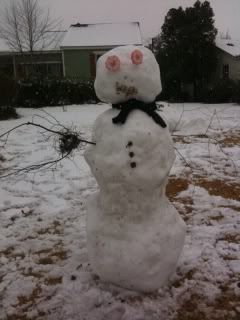 ...a Mississippi snowgirl with camillias for eyes...
Any of you Yankees that are reading this HAVE to give me a break. I understand you get snow, many feet of it. Now I'm asking you to understand, we DON'T. Yes, we had a smattering last December, but nothing like we saw today. I donned my down coat, warm boots, gloves, hat and scarf and took off walking, twirling in the middle of the road.
My neighbor and dear friend, Fran Ginn invited me in for coffee and warm cinnamon rolls. And it was the start of one of those do-over days. One I wish I could miraculously just do over. Several sets of neighbors came by within minutes. The world was waking up and the falling snow had everyone out and moving. We repeatedly gravitated to a window to stare at the falling snow. I stayed a couple hours and as I was leaving, Fran invited me back for lunch.
I returned to a Barefoot Contessa setting smack dab in the middle of "the Hamptons" for lunch. Of course it all took place right here in lil' ole Columbia, in Fran's kitchen. Fran made Chicken and Rice soup while everyone else pitched in just like on Barefoot Contessa when she has "friends" for lunch. I chopped cilantro. Someone else sliced avacado. The table was set, cheese sliced, bread toasted, glasses filled with ice, then we sat down.
A table of six, all varied and different, yet such a comfortable air. We discussed how the neighborhood needs this sort of comraderie, and more often. We all laughed at our imagined "Hamptons" setting. And we marveled at the snow.
Lunch was an impromtu affair, soup quickly made, invites casually done. Yet made such an impression. Oh, and the snow. Just as snow in Mississippi is surreal, so is being in the Hamptons. Hey, give us a break.
We had snow. And "the Hamptons"...all in one day.