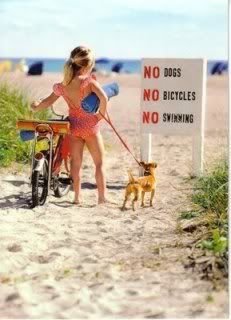 How's this for another "honesty" post? I'm floundering a tad. And this pic is an easy way to show you. Yes, the sun is shining. Yep, I want to ride my bicycle. And uh huh, Tallulah is sticking close.
I just can't seem to smile genuinely just yet.=)
Ever noticed how when the stars aren't all aligned, other things pile up? By this time of year, my yard is a wonder garden to browse around in. (I guiltily admit I've not strawed a single bed yet, though there are gorgeous green shoots everywhere.) There is pine straw strewn all over my patio area. I didn't make my bed yesterday for heaven's sake! And OF COURSE someone came by and brought a friend and OF COURSE has bragged and bragged on my house and OF COURSE begged me to show them around.
Yet, here I sit in the coffee shop blogging about how I can't get it together. And I'm looking out the window at the most gorgeous day you could ever order directly from heaven. Why can't I simply walk to the washing machine and wash those clothes? What is my hold up on driving to the nursery, buying the straw and making my yard look as it's expected? Why can't I put that pile of stuff in the attic as it should have been done long ago?
No answer in sight. I only hope to right whatever this wrong is in my head and get on the ball.
You're welcomed to give me a shove, or some advice. Just be nice. I might cry.=)