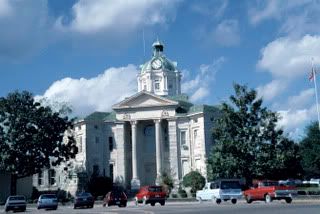 Columbia, MS Courthouse
Today has been another of those "live-over" days. I just spent the evening at Back Door Cafe listening to my daughter Tayler sing incredible love songs. Our friend Eric played acoustic guitar and they did a couple of duets. How did I ever get so lucky to end up in "small town America" Columbia, Mississippi? There are only 6600 people in our small city, yet we have an amazing fine dining establishment. For Valentine's Day diners, there were pristine white cloths, fat, ruffled edged camillias and glowing votive candles on each table. Owner/chef Fran Ginn invited Tay to do the entertainment and the ambiance was perfect. Just one more reason my love for Columbia escalates often.
My weekend started Friday with my friend Lori and I spending a quiet evening enjoying homemade chicken veggie soup, strawberries and cupcakes. Last evening I baked, mini and full sized cupcakes then dipped some strawberries in white chocolate. The strawberries went on top of the chocolate iced cupcakes and I added those little heart shapes with writing to the top of the minis. This morning started with delivering mini cupcakes to my friends, the staff at Hardee's.
After breakfast I rode with friends Lisa and Ashley to the coast to pick up Ash's costumes for the high school musical coming up. We drove the beach, crossed the new Biloxi/Ocean Springs bridge to Ocean Springs to buy muffins at Bayview Gourmet, then had coffee at the Roasted Bean in the Beau Rivage. My reservations for dinner were at 8, so we headed home.
I really can't imagine another city of this size having so much to offer. Columbia High School has a musical each year that is highly anticipated. (Tay had the lead the year she graduated.) The band wins "state" each year. (My three were all a part of it. Tyler began his public career of drumming in the 6th grade. Tay played clarinet and Tyren trumpet and french horn.) And that's not even mentioning sports. (Tyren went to state 3 years running playing tennis.) It's "cool" to be in the musical and band here, as well as sports. That was not the case in my high school.
All this and I haven't mentioned my place of worship, the absolute best perk of the entire city. Cultured friends, award winning high school, fine dining and Woodlawn Church.
Heaven's to Betsy I love this well-rounded small town!