I am regularly outdoors as I love gardening, cultivating my exterior spaces and entertaining al fresco. (Hence, "missing". A lovely hand written note I received this week spurred me to post. Thank you, Danette, it meant the world.)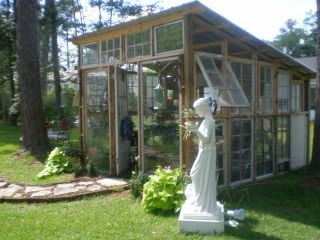 This is my "piece de resistance" for the summer. I collected wooden windows and doors from roadside after Hurricane Katrina. Here is a dream come true. My zen place. It is 10' X 12' and will eventually have a pea gravel floor. The path winding to the door is comprised of pieces of sidewalk from the front of the house. The sidewalk was ruined during Katrina and my sons busted the huge broken slabs into smaller pieces. I then fashioned a walkway from my back patio to the new greenhouse. I still have not made a decision whether or not to paint the "shed". I love the primitive look, yet know I'd enjoy it painted pristine white also. What's your opinion? Also, what to call it? I refer to it as a garden shed, greenhouse, etc.
Do give your opinion....
p.s. The statue is actually a fountain. Water pours from a vase in her hand into another vase at her feet. The hand you see holds a small pot of blooming impatients. She is a Dirt Cheap find.