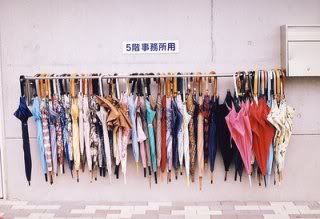 It has rained enough days to carry one of these and never repeat. I like it though cause this time of year rain means cool is coming. Well, sometimes it does. I seriously would love to have this many umbrellas. I have a porcelain stand at my front door with about half a dozen. I'm working on my collection.=)
My youngest is on his way home as I type. My middle child arrives Friday. In mine and their lifetimes, this is the longest I've gone without seeing one of my three offspring. Now if I could just do the Dr. Spock thing and teleport my eldest home, the world would be perfect. I must settle for time with the two youngest for now. I have readied my home for company. I simply love to entertain, whether it be my children or guests. Flowers bedside, fresh towels stacked, candles in place, fresh baked goods, and my Fall scarecrows and pumpkins out.
My next thought process is of my dear friends the Ragsdales in Nashville. I grew up with the 3 Ragsdale children, and adore their mother, Boots. I've always wanted my children to love me as those 3 do their Mother. The youngest, Josh has been found with leukemia. As my son drives home, I try to imagine the terror of "knowing". My heart cries out and I desperately pray that God will heal Josh. Strength is my next prayer, for both Josh's parents and siblings.
Why does it take something of this magnitude to make me thankful for the health of my children and I? How we take that for granted.
Say the name of Joshua Ragsdale in prayer. And then say a prayer of thanks.