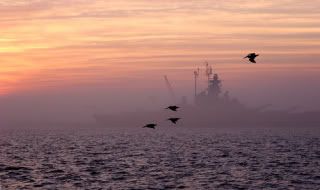 The Battleship in Mobile, Alabama
I agree. That is the most beautiful portrayal of the battleship I have ever seen. I am off to meet a client in Mobile today, and the first thought process I had was of the battleship. My memories are in no way reflected in the above romantic picture. I remember crying and begging Daddy to get us out of there! The tour takes you deep into the belly of the ship and as a child, I was sure I walked 42 miles! I vividly remember the bunk beds and how they were stacked so closely together. Everything was painted shiney steel gray.
I don't plan to visit the ship today (actually never again=), but you owe it to yourself and children to at least once walk the 42 miles. Six months at sea on that monster? Makes me deeply appreciate the Navy.
I prefer a sailboat please...