I'm desperately in love. He's tall, blonde, tanned and has a tatoo of a bird on his right shoulder. (I detest admitting I've always had a thing for blondes with all the hoop-la surrounding females in this category.) There's a tad of grey beginning to show in his temples (though he's slightly younger) and he wears Sperry topsiders with panache.
He picked me up at the dock a bit after noon and we went to Horn Island, some 8 miles out. Skimming across the water at 50 mph is exhilarating and the sight of dolphins struck me dumb. As of this week, I have added yet another requirement to my list of "possibles". He must now own a boat.=) His boat, a 20 some-odd-foot center console "Open Fisherman", is perfect for a day on the water. The sky was absolutely endless and I'd forgotten that I love the smell of salt water. We walked on Horn Island for a couple hours and he named numerous birds. Rare is the man who knows what bird is which. We saw a couple of 20 pound stingrays that were waiting for high tide. Ghost crabs, white quick running critters were fun to catch sight of. I learned how to spot where the schools of mullet were and picked up a bucket full of large, perfect seashells and a couple dozen sand dollars.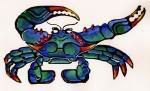 (blue crab by Walter Anderson)
The infamous artistic recluse Walter Anderson lived on Horn Island for years. He'd row the 8 miles out with supplies and a fishing pole, then simply not leave. While perusing pelicans, great blue herons, reddish egrets, ruddy turnstones, and American oyster catchers, I felt I understood Walter's love of the island. Lore says he survived hurricanes by tying himself to the top of pine trees. Horn stretches 18 miles east to west and marks the boundary between the Mississippi Sound and The Gulf of Mexico. It was named one of the Best Preserved Wilderness' in the country last year. The south side of the island has a large cove and during the summer I hear it's quite popular, Australian style sunbathing being de rigueur. Park rangers live on the island year round for the sole purpose of preserving it's beauty. During nesting seasons, they flag the nests and certain areas are off limits to humans.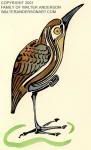 (bittern by Walter Anderson)
If there ever was a perfect day, my day on the water was. I wrote in my journal, looked at magazines and soaked up the sun while he fished. A 22 pound redfish is huge let me tell ya! Large, sleek sailboats glided by and he mentioned that when he retires he wants to sail around the world. (That's been on my list of 50 Things To Do Before I Die for umpteen years!) And yes, I agreed to accompany him. We returned to the dock just after the sun slipped beyond the horizon and the lights of the new Ocean Springs bridge sprang to life. I couldn't resist walking the bridge from the east to the it's highest point to view Biloxi from a nice perch. The walking track spanning the 2.6 mile bridge is unbelievably popular with joggers, walkers, cyclists, and the likes of me, the curious. My dear friends built that bridge post Katrina and I texted them while walking to tell them how lovely it was. I'm proud to be their acquaintance. The evening finished with blackened redfish at Al Fresco in quaint Ocean Springs. Dining outdoors with the sounds of a large fountain was the perfect ending to a perfect day.
I have weighed the pros and cons of my time with this extraordinary man. He's kind, intelligent, a font of information and a perfect host. After all, I do live in Mississippi and the world at large expects it. Why can't I prove them right?
I'll just go ahead and marry my first cousin. (For those of you with your eyebrows disappeared into your hairline, I'm joking. Anyway, he's already married to a lovely lady with whom I can't compete.=)
Steve, thanks for a day that's emblazoned on my mind forever. Oh, and thanks to TJ also.