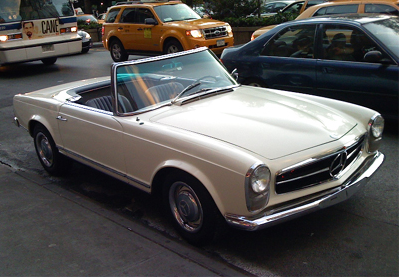 My home, which I refer to as "Never Finished" is what we call here in the South, a "Katrina" house. I purchased it in sad repair. Three trees in all went through the roof of the house and garage. A blue roof was not even put on. The garage had the most damage, but when I walked up, visions of parties floated in my head. The garage is deep, two cars can park one behind the other comfortably, as well as beside each other. In other words, four vehicles in all can fit. All that AND a storage room the entire width across the back. I envisioned linen clad tables with sparkly chandeliers dropped over them and easy jazz piped in. The garage literally sold me before I sat foot in the house. But there the vision did not end.
A small convertible could be housed perfectly during the "too hot" and "too cold" months. Finding the right one is a challenge, literally. If I could curb some of the wanderlust, it just may be possible. Some far reaching place on the globe always beckons, and the vision is bumped further away. At some point the craving for a convertible will overcome the wanderlust, and I'll be setting pretty. Well, a convertible will be setting pretty in my remodeled garage. Preferably one EXACTLY like the photo I found at www.cocokelley.blogspot.com.
I won't even mind taking down the hammock to park it.