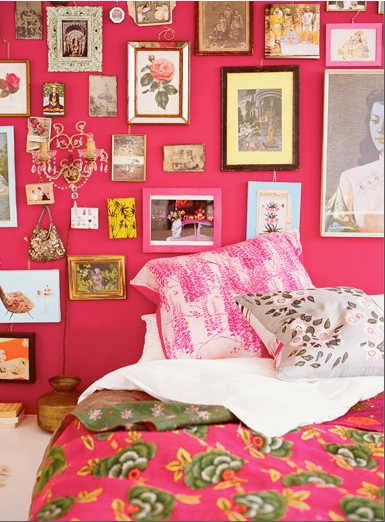 I lovelovelove this room, although I simply couldn't wake up daily to that color. I'm afraid it would cause me to catapult out of bed! I have been inspired for some time to do something like this art wise on my dining room walls. My wall color is a lovely chocolate, conducive to interesting conversation.
There are only 3 walls in the room, one with a door and 2 with oversized windows. The other is a large passageway to the living room. I am going to mirror the focus wall that faces the living room (I was lucky enough to procure 3 large sheets of mirror being disposed of). The other windowed wall is going to get the "multiple, multi-sized art" treatment.
I shall post pictures...(don't hold your breath as to when, it's overload season for me beginning tomorrow=).
(Photo from www.hiddeninfrance.typepad.com.)