I really tried. I simply do not need to blog when in this state of mind but it ain't happening. When I get this out of whack, words just flow.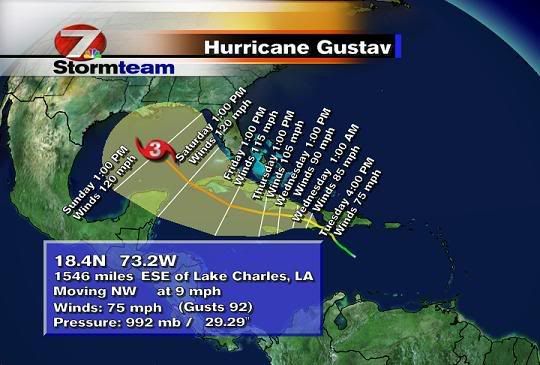 For starters, Gustav is to blame. Then Ike. Then going to Europe really messed me up. Came home to work backed up and my boys came in the next day, one evacuating, the other because we were all home together for the first time in months. Less than a week later I went to staff retreat for 3 days. While gone, Tay calls to tell me she is painting her former room which was the guest room/storage. (2 closets and an armoire in the room made for a good place to stash stuff.)
Gustav was supposed to get us, but we barely got a gust. I did as was suggested and cleared my yard. I love outdoor dining, etc. so MULTIPLE things had to be secured. I have a pile of iron furniture, yard art, bottles from bottletrees, cushions, etc. still under my carport. Please believe me when I say there has not been a single day to deal with it. Everytime I drive up, I cringe.
Simply put, I'm out of kelter. Like whacked out of kelter. The carport being piled was the descent into white trash living. I left for Europe with Ike out there somewhere. I returned with evacuees arriving less than 12 hours later and me hung over with extreme jetlag. I then had houseguests for a week and had to leave again for retreat. Then the call asking me where she should put all of my "stuff" out of those closets in her room. Tay is absolutely not to blame. Life is. But now along with the piles on my carport, I have many piles elsewhere. The closets and armoire in that room contained design junk for weddings, all my pictures, my table linens (and I could easily "cloth" the White House) artwork not being used, floral, games, vases...you get the picture. Tay kindly stacked the floral junk, artwork, etc. in my room, all linens in the foyer, the games on the breakfast table, moved the armoire to the middle of the media room till I can decide where to put it, quilts and blankets in sunroom, etc.
It's all still sitting there. I simply don't have the energy nor the time to deal with it all. And energy it's going to take. I have to figure out where it's going. By most standards I am a packrat, alibeit an organized one. I use the stuff for church functions and events. It's my work, and I simply have to have it.
Since my nest emptied a few months back (thrilled that Tay is back home though), I've become accustomed to the fact that the only messes made were by me. Things have stayed pretty much in place. Do you believe me when I say that my carport and these intrepid piles are making me crazy as a sprayed roach???
To top it off, there was a lovely little gift bag hanging on my back door knob this evening. It was from my bosom friend Fran who just returned from France. I was mortified knowing she walked under the carport that looks like a redneck is collecting iron to sell for scrap. I must admit that when things are running in this vein, I digress. I think I know how the reformed feel when they have fallen off the wagon. Once I fall, it's hard to stop. I literally put 2 bags of garbage at foot of my steps with thoughts of "What are 2 bags gonna hurt? The rest of the carport is in a heap!" Fran had to step around garbage to deliver my oh so precious gift, a fountain pen. I'm fully convinced I'll never redeem myself.
Have I mentioned what the inside of my car looks like when I'm doing the "white trash redneck" living? Saints preserve us, I'm simply too mortified to share.
Tonight, in the dark I might add, I put the bags in cans and took them to the road. I put the bottles back on my front bottletree. I replaced a burned bulb in my landscape lighting. I picked up pinecones from the yard and drive. I cleaned out my car (those few words encompassed a whole lot). I shall start replacing outdoor furniture to it's rightful place tomorrow. Then Saturday I will deal with the inside piles. I feel better just having stated my intentions.
I am now on the road to recovery.