I'm assuming I'd never thought about it, and all the while me professing to be the world traveler. How did I miss this? Surely I've seen articles on this indescribable land. Did I ignore them, have I just been blissfully ignorant or is this amazing place a well kept secret? I get Conde Nast Traveler. I read travel blogs. Anything link related to foreign travel is sure to be clicked and quickly. Above you see my sisters and I in Bitche, France, just over the German border. No, I didn't spell it incorrectly.=)
I have just returned from a most surprising journey, a journey to Germany. A land of villages where the tallest thing is the church spire and cutting edge modern all rolled into one. My mind constantly reeled with the knowledge that my children would adore Mannheim.
The "water tower", which is a gross understatement for something so beautiful, sits in the center of this thriving city. It dates back several hundred years. You stand in front of the gorgeous architecture of this building and street/cable/subway cars glide by. A massive round fountain with some 30 plus heavy geysers shooting into the air is surrounded by bold colors in the perfectly landscaped beds. Across the street, never has a Starbucks drawn me in so acutely. It was solid glass in the fashion of a greenhouse. The sidewalks are covered with tables, big umbrellas and all have candles on them past dusk. I crack myself up when I want to type "it's all very European feeling" when my tail was sitting in Europe! Mannheim boasts all the grandest shoppes we Americans tend to flock to along with incredible furniture stores chock full of modern pieces we rarely see. My "culture vulture" was in overdrive. The train station was all steel beams and glass while on the street just outside were three story limestone buildings that were some 300 years old.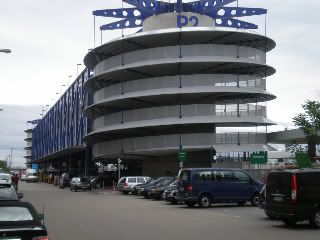 I am impressed with how seamlessly they have married the old and the new.
A driving tour of the Black Forest was breathtaking. Can you say vista after vista? I have so many stinking pictures of hills, church spires, vineyards and castles that it's absolutely insane. I finally said "No more pictures of hills or spires." Every curve was a another view. And we hadn't even gotten to the Rhein River. We drove for half a day beside the river through village after village. There are large barges, not like on the Mississippi, that are for hire. Gleaming white with a personal chef, they are the river's version of a yacht. I have designs on a cruise on that very river in my lifetime.
To say Germany is beautiful is sadly understated. I plan to live in France one day. Switzerland is surreal. I love touring Italy. But I have to say that my days tooling around the countryside of Germany now places it as the most beautiful place I've been. For lack of better wording, it was the most quaint and homey. No wonder the country housing the largest numbers of American citizens living outside the U.S. is Germany.
(View a ridiculous amount of pics at www.myspace.com/twylabournswanner )