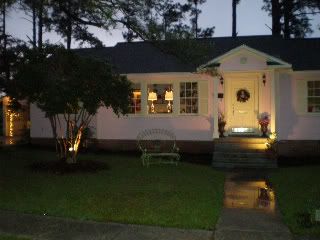 Moving into my new home a couple years ago brought intense joy. I bought a "Katrina" house, as the ravaged ones were often referred to, and had such fun remodeling, redoing, redesigning, etc. The same joy is coursing through me this very morning. Yet another hurricane, Ike, has benefitted me. (Please take my words lightly. I in no way wish harm to those that were in his path.) My eldest son Tyler evacuated home and it's been sheer joy. Hence the new face of my old blog. His brain never ceases to amaze me. I describe what I wanted, he came through brilliantly.
I've had this blog spot for years and migrated to myspace some time ago. I've had many requests to read my blogs by those without access to them. I feel as if I deserve a spot on the HGTV show "Old House, New House". Tyler worked his magic and I now have a silly grin each time I look at the header on my blog. My plans are to not write "short stories" as Tay calls them. I hope to post more often, and just not in such length. I feel sure I'll have trouble resisting and will have to ever so often tell "the rest of the story".
Those familiar with me know I love entertaining. You are so welcomed to visit me here at my new address, and often. This is your "address change notification". www.thebottletree.blogspot.com is my new home.
Let me get you something to drink. I have grapes frozen to float in some juice. Sit for a spell.