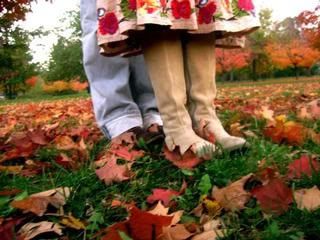 I'm having my first cup of hot chocolate this fall. Oh how delicious it feels outside this morning. A nip is in the air and it causes me to take a deep breath as if I'd swam the length of an Olympic pool on the bottom. I'll be able to wear my fabulous boots before too long. And that really makes my guts smile.
Being in the deep South, I'm sure to get a snicker or two from some of you. No, we don't have intense winters, but please allow us to enjoy just this "touch" of fall if you would. It will be back scorching in a few days, but for now, I'm going to twirl, breathe deeply, and think of my dear friend June who adores this time of year.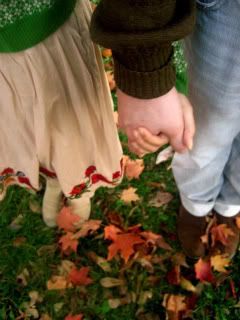 The above photos are of my son and his oh so lovely lady, Jen. The pictures were taken last year in Indiana where Fall takes my breath away. Oh to have those leaves in my southern yard. I'm headed out to make sure my pumpkins I purchased yesterday are positioned just right on my front porch. Pick up one, two, even three. Two or more out front and definitely one at the back door will cause many a smile.
Happy Fall my dear friends.