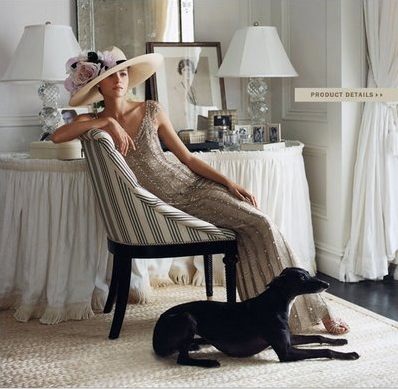 (penned June 21, 2008)
I hope to accomplish 2 things in this blog. I want to introduce ways to enrich your life on a literal and spiritual plane. As blessed, excessive Americans, we tend to go through life without being grateful nor giving back, and in the same respect, we don't treat ourselves as kindly we should.
In the literal sense, I'm always amazed at the way people live. I admit that my "eye" for design is very aware of surroundings when in someone's personal space. I am an interior designer by trade. I love my work and am extremely good at it. (I can see Tay rolling her eyes and saying "Mother, don't say that!".) I have clients ranging from the fabulously wealthy to mobile home owners. And most do not live up to their "enriched life" potential. I am not referring to spending exorbitant amounts of money nor having little. I'm referring to making your space comfortable and a place you love returning to day after day.
Lie down on your bed and look around. Do you have a bedside table in easy reach? Is there a lamp with good reading light? (3 way bulbs are superb, 1 click-mood lighting, 3 clicks-perfect reading.) If needed, are your glasses there? Do you have a coaster with a favorite theme? A notepad and pen for when you awake with an epiphany that you'll never remember come morning? Or to jot down something you absolutely cannot forget that will wake you with worry? (Write it down and you'll sleep better.) Is your alarm clock from the 70's? Is there a frame with those who mean most to you there? I suggest only things that are beautiful or required be placed at your bedside. Make the things your eyes light upon first be your favorites.
My bedside consists of an exquisite lamp, a creamer full of sharpened pencils (I have an ongoing love affair with pencils, mechanical or No. 2's), notecards for thank you notes (Jackie O sent thank you's within 24 hours without fail), a sleek alarm/radio that also holds my ipod, a picture of me and my brood in a jeweled frame featuring a peacock, eye drops for contacts, a small stack of books, a favorite smelling candle, a carafe of water with a small drinking glass that serves as the lid, my remote, and a coaster from Italy. Anything else I need is in a basket just under the edge of the bed. All this is within reach. A much loved oil painting with an art light hangs above my bed. (When I remodeled I had a light switch installed beside my bed that turns off my lamps and art light with one flip of the switch. If this is not feasible for you, just put the switches within reach without getting up. We are also slaves to our cell phones. Many of us are now reached by cell so plug yours in at your bedside daily.)
You should be able to lie down for some quiet time before sleeping to read and when you fully relax, flip off the light and snuggle in. I can hear it now. "I don't have time to read"! We are geniuses at making time for whatever is most important to us. I'm not suggesting hours languishing daily reading romance novels. (Though that is a grand idea at the appropriate time.) I'm suggesting picking up your bible, a self help book, an art book, or a novel, and giving yourself 30 or so minutes of down time. Your book may hit you in the face in 10 minutes as Pastor says his does, or you may make it the full 30 minutes. Just pick up something and read allowing your body time to relax from the day. I'm aware the trend is a lovely flatscreen in your bedroom. Lying while watching TV does not excuse picking up a book. Turn off the TV and enjoy a book. It's a grand habit to develop. Many designer and marriage counselors forbid TV's in the bedroom. I'm not totally adverse, just do not get in the habit of falling asleep with it blaring. Always allow relaxation time before going to sleep.
I will be ridiculed by some, but it will be those who lie down tensed up, and get up even more stressed. Happiness is a choice. And we must make choices to enrich our lives. I sit up each morning and slip my feet into cushy pink terry cloth flip-flop style slippers. I turn on my ipod per mood of the day. I choose to smile. Yes, I wake up blue some days. (I'll admit to that being rare.) But the first thing I see is a favorite pose of my children. And there is a lingering scent of my candle.
No one is going to make you enrich your life. Just choose. Make a nest for yourself and companion if it applies. Use matching lamps if space permits and put your picture on his bedside. He will thank you.=)
On to spiritual things. How do we who have been given much return the much that is required as the bible so eloquently says? Start with learning the names of those with whom you have contact with daily. I'm referring to the girl in your favorite drive-thru. The man who changes the oil in your vehicle. The aunt of your girlfriend from church. The person who cleans your place of employment. The teller at the bank. And call them by name. Just be a friend. We are creatures of habit and you as a human being return to the same places frequently. Be conscious of everyone. If you'll think back, someone called your name, someone you had no idea knew you. It makes the heart smile. Now, you make someone's heart smile.
Make a double pot of pasta and take it to the new mother, the elderly who is on a walker, or the one who just had surgery. Bake a cake, split it 4 ways and drop it off the cancer victim or your friend's aunt who is in the nursing home. Ever asked someone who is housebound if you can pick up anything at Wal-Mart for them? While needing to be kind to ourselves, we must also teach ourselves to be kind to others. It doesn't come natural to most. My sister buys a $10 gift card each time she buys groceries. She passes these on to those she finds in need. My sister-in-law takes her young daughter to visit a retired lady from her workplace. I try to include those who don't have family for Sunday lunch. It's the small things that count.
If you've read any of my blogs, you know I'm a proponent of helping Africa. Organize a group, ladies from church, a book club, your Sunday School class, and do something for the good of the world. Ask the group for names of acquaintances with cancer and their care givers and mail cards of encouragement once a month. Raffle a manicure/pedicure and buy mosquito nets for families in malaria ridden countries. Go play with kids in the cancer ward. Pay a young man to cut the widow's grass. Set up and manage a clothes closet in your church. Go to the nursing home and ask who never gets visitors. Big gestures and small both count. I have found when I include others, when I involve a group, I feel even more fulfilled. People are inherently good. They just need a nudge same as you and I.
I have successfully written my way under conviction. I shall do something today to make this world happier. If you've followed my travel blogs, you're aware I just returned from my first 3rd world country visit. Many have asked how they can help, what they can do to make a difference. I will gladly pass out the names and addresses of the missionaries we visited. They need our love and support. I'm told they can receive a shoebox with no trouble. Boxes any bigger and they have to handsomely pay the government just to pick up the box. How much joy can a shoebox bring to a 6 year old boy, his 2 year old sister, and their parents? I would imagine on a scale of 1-10, that small box if filled with goodies would peg a 10. You may also make a donation to my project with checks made out to Woodlawn Church. Fresh water wells in Africa are my soapbox.=)
Contact me at allyswann@aol.com. Go on. Make your nest comfortable. Enjoy that it makes your own heart smile. Then don't forget, it's "required" that we share.