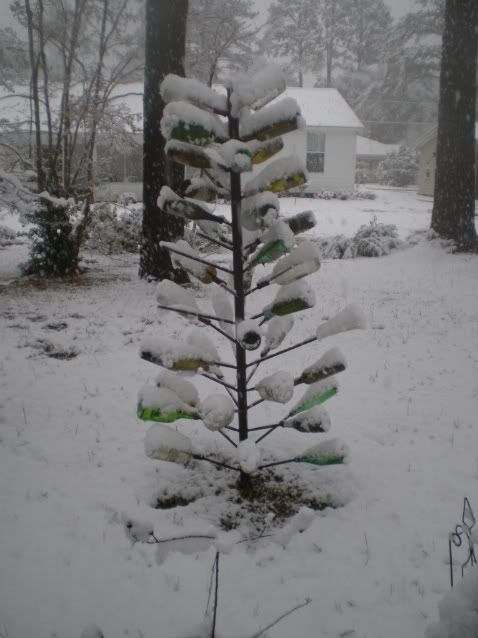 (my beloved bottletree)
We had 8-10 inches of snow. Yes, in southern Mississippi. Last week it was 73 degrees Farenheit Tuesday, frigid air and SNOW on Thursday.
Dear patient friends, December is busier for me than a peg leg man in a forrest fire. (Like that one? I can hear my Daddy say it then hee haw at himself. LOL.)
But last Thursday was one of those "live-over" days. It is stamped in my memory forevermore. I awoke to heavy snow fall with the ground already white at 6.30am. We were warned the day before, but without any hope it would actually happen. I jumped up to check if there were any flakes at all falling and got a massive shock. It snowed hard, continually for 6 hours. I have never in my lifetime experienced snowfall like that. Woke up Friday again to a winter wonderland.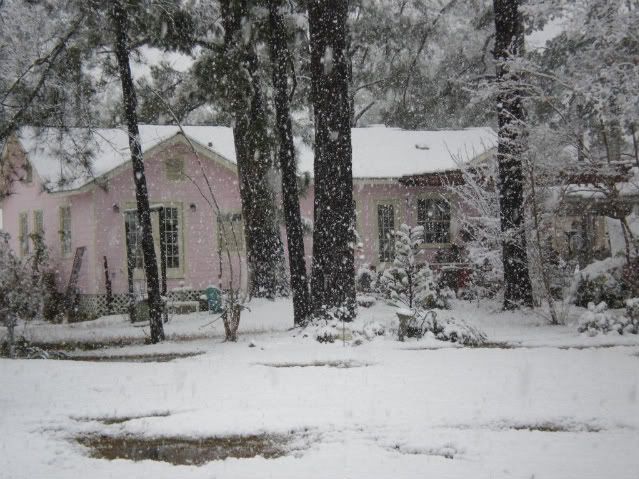 This is my backyard by 9am. The rest of the day was spent with my family. I found I love sitting on a trash can lid and being pulled by my nephew Chandler behind his 4 wheeler at quite a clip. I returned the favor for him. Imagine that.=) The day was simply...over the top.
Funny thing is the almanac says we'll have snow again next week. I am officially adopting my Pawpaw's love and deep belief in the Farmer's Almanac.