Friday
My weekend has been chock full of emotions, most of them precious, some overwhelming. Eventful doesn't begin to explain it. I have 4 blogs rolling around in my head and am completely unsure of where to even begin. I think I'll do an overview and in-depth ones can follow. Spending the night with friends, attending a heart rending funeral and falling in love all over again with extended family all in one weekend will do you in.
Friday was rushed. I seemed to be behind from the moment my toes touched the floor (in reality, from the first early ring on my cell). I was due to dinner/sleepover with dear friends in Laurel at 6 p.m. and the entire day seemed to work against me. But when I arrived, (sorry to admit it, yes I was 30 minutes late) each obstacle of the day faded away. Royal treatment tends to mellow the drama of a rough day. We dined sumptuously on spring greens with raspberry vinaigrette, garlic mashed potatoes, french style white and green beans and bacon wrapped filets. Finer hosts are rare. My friends live on a working horse "ranch". The next morning I was introduced to 2 new babies. Diva and Cobalt took my breath away. George, their fine feathered rooster showed up after Katrina and never left. And Tom was found up a tree at around 6 weeks old. He is beautiful, kind, midnight black with a white face, now rotund and sleeps with George in the hay, together I might add. Oak Crest Farms is a zen place for me.
There is a peacefulness at watching horses graze. When let out of the barn that morning, Cobalt followed his mother across the pasture to the shade tree. Diva pranced around and returned repeatedly to the fence to be petted. Jack, their terrier followed our every footstep, well as far as he can. Jack wears a collar where an invisible fence keeps him in. The batteries are now run down but he simply will not cross the line. How well he remembers the first time. I'm told you would have thought he'd been shot he howled so loudly.
Thank you Ben and Ron for your true hospitality. Of the 5 bosom friends I'm told I'll have over the course of my life, you are part of that lump.
Saturday
In the "most beautiful days of the year", this day ranked extremely high. Crisp, clear and sunny are just a smidgen of adjectives that describe. My drive to the coast was soothing. Sunroof opened, James Taylor's recent Christmas album blared.
Actually, I was headed to work. My cousin David has a new house and asked for help placing new artwork. He booked the day with me with no way of knowing I'd have to be there that very weekend. His new place is 3 blocks from the beach, definitely a perfect bicycle jaunt. Our plans included making his home great, then dinner.
His bungalow is long and narrow, almost in shotgun style. There is a deck running the entire length beach side with mood lighting on the posts. That makes for perfect entertaining. David is a collector of old, fine things. And it's easy placing great stuff. There is a sailboat that is 4 ft. or more in height. Propped on the mantle in the same room is the captain's helm from a bygone ship. The dining area, not a formal dining room, has a grand collection of wines and 2 sassy redheads in oil paintings. We worked for several hours and smiling was entirely easy around dusk. It really all came together wonderfully, and I must say the transformation was startling.
The fact that I have lodging that close to the beach is thrilling. And I'm taking my bicycle. Yes, the one with the basket on the front. The place of my birth is less than a mile from his home and I feel a deep seated connection to this city.
Our day ended with great conversation and seafood. A young lady that grew up beside me, and is also David's cousin, is his backdoor neighbor. Marissa and her husband Zach joined us for dinner. Bonefish, a new fine dining establishment, was the perfect setting. Less than an hour into our conversation, Zach and I discovered a commonality. He's a contractor and he began telling me of some unusual work he'd been commissioned to do by a client. The phrase "it's a small world" doesn't come close to this. The people he's working for are dear friends of mine from long ago. I worked for them for years and one of the ladies graduated with me. Needless to say, conversation flowed freely for some time.
Hostessing is an art. The book "Home" by Pottery Barn has an entire section on "guests" if inspiration is needed. I spent a relaxing late evening with yet another cousin, Anita, David's sister. With candles burning, and a large bowl of popcorn, we caught up on Grey's. Her daughter graciously gave up her bed for me and it's truly the little things that count. The bath was outfitted nicely and obviously waiting on a guest. Anita waited on me hand and foot though I protested. She has a lovely home and is the most unselfish person I know. She is another blog entirely.
I'm not sure I even turned over during the night. I went to sleep with the knowledge I would dine at my favorite breakfast haunt in Ocean Springs. How much more can you ask for as a guest?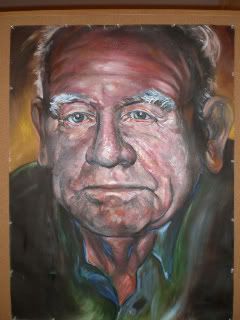 Robert Heyward King by "little james"
Sunday
Purposely, I've not alluded to my reason for needing to be on the coast. A grand, great uncle passed and the funeral was at 2 p.m. When I walked in the door, my breath literally caught in my throat. There was an oil on canvas displayed of Robert Heyward King a.k.a. "Uncle Bobby". A rendering of a face has never been so moving nor so perfect. It's human nature to study a portrait and in my humble way, I usually have thoughts of which eyebrow would be lowered or if the nose is a bit off kilter. I could hear Uncle Bobby speaking as I looked at this oil. His spirit is definitely alive in the portrait. I began to inquire immediately. His grandson, "Little James" as this grown man is known, was the artist. I'm proud to announce he is also my cousin. (I know, I know, I have more cousins that Carter has liver pills.) Uncle Bobby owned a construction business for untold years, as well as worked for several prominent companies. He was an instructor at Jackson County Junior College and also Biloxi High School. Oh how he loved to tease. Every picture my mind conjures up is of him holding a coffee cup with an ever present twinkle in his eyes.
Reconnecting with family is such a precious thing. I'm not fond of the reason, death is always emotional, but all the hugs and kisses are absolutely soothing to the soul. My grandmother, grandfather, Dad, Mother, aunt and uncle were all missing. My grandmother would have been collecting her a stack of the funeral programs, bumping into chairs while moving around on her 'wheels". Daddy would have been laughing with all the uncles, enjoying the jokes as well as telling them. And all the while Aunt Deta would have been taking pictures, documenting the occasion. Pawpaw would have sit quietly on the sidelines, ever observant. My thought processing on what my Mother would be doing is vague. It hurts to realize she's been gone so long that I have trouble placing her in a huge family setting. I do know she would have been laughing.
I promised the aunt's Christmas cards, as I'm always reminded to do. I conversed with long lost cousin Ernest Lee and was told a story of his worst whippin' ever that my Mother caused. Another cousin, Candy (who is grand daughter to Uncle Bobby), added fuel to my blogging fire. You never know who's reading.
My day started early at Bayview Gourmet in Ocean Springs. I left with a box full of gargantuan muffins, 2 of which did not make it home. While crossing the bridge I texted Steve (yet another sibling to David and Anita) to say seeing the water made me think of him. He insisted I come over and I left there with a cutting of bamboo and an avocado tree. I love visits that produce presents! (Read previous blog "I'm Officially A Redneck" for more on this cousin.) And yes, David, Steve and Anita have one more sibling, Amanda who is on "adventure" living in North Carolina. I also visited her last month. I have an affinity with this band of cousins wouldn't ya' say? All you other bands of cousins don't get your panties in a wad. I'm affinitied to ya'll too.
As weekends go, this one was fulfilling. Vacillating from sheer joy to deep sadness, these 3 days were the epitome of that famous quote. "Life is not measured by the number of breaths we take, but by the moments that take our breath away."
I definitely had trouble breathing for the last 3 days.