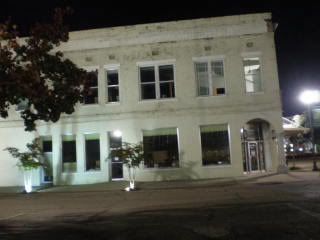 Every time I pass this building, my heart speeds up. The owner allowed me a walk through and you could audibly hear my brain clicking. In "my" perfect world, there is a design shoppe on the bottom floor and I live upstairs. The corner entrance would boast a carved wooden sign stating the name "Swanky" with "interior/event" just below. I laugh at myself, but I just can't get away from that name. I love the idea of answering the phone, "Swanky, may I help you?". Large square copper pots with ball topiaries in them flank the front door in my vision. A chalkboard on the sidewalk with a daily quote would be a must. Brightly lit window displays would be impossible to pass without stopping to peruse. Accessories, custom furnishings, a few antiques, even some consignment pieces would make any heart rush upon entrance.
The building is the original Citizen's Bank. There is a beautiful conference room upstairs with mahogany walls that I envision as a dining room. I can see the sparkling chandelier. I'd love having lamps lit at dusk in those front windows with the view of the courthouse. The ceilings are high and the windows tall. My prized art would showcase perfectly.
What's that quote about dreams? "Dreams are necessary to life."~ Anais Nin
What I fail to mention here is I'd have to find me a billionaire to accomplish all this. Feel free to make introductions.