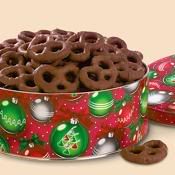 Having sisters is one of those indescribable things. I'm the eldest. So I rule. (It would behoove you to not ask questions concerning this.) There are 3, Tiji, Tara, and Toy, and I absolutely cannot imagine life without them. Saying we are a close knit crew is a silly understatement.
Today is "Christmas Candy Making Day" at Tara's, sister number 3, chronologically. We each have a favorite we make, always in double, sometimes triple batches, then share among the 4 of us. Tara's will inevitably be peanut butter balls and Toy's ALWAYS something different (as in "not the norm"). Tiji loves making cookies and I liking dipping "stuff" in almond bark. (My nephew Clint loves my oversized dipped pretzel sticks.=) Music will be loud, it will get messy, but things WILL be back in perfect order before we all leave. (Tara's house is the "best kept".=) AND we get to take home a pile of Christmas candy loot.
The four of us spending time together is necessary to breathe. I wish I could tell you how often I hear "I need some sister time!". Last year we went to Vegas... Funny what you can read in "..." when Vegas is mentioned. Hehe. We often take off to Beau Rivage for an evening of dining and dancing=). Or just have a relaxing evening together at somebody's home. And every year I get the call, "We found our sister gifts, your part is $75!". Someone finds something we all have to have, and you put your 1/4 in the pot to cover the costs of 4 of them.
Today I will get my "fix". We'll laugh, do the electric slide, possibly cry, plan a get-a-way, and weave that sister bond all the tighter.
But that's what holidays are all about. Strengthening family bonds.