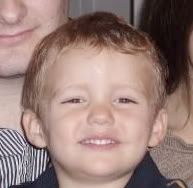 (photo filched from Tyler's myspace)
This precocious, precious child is nephew of my son's "intended" Jennifer Cobbs. Avery had brain surgery day before yesterday and is in Texas Children's Hospital in Houston. Long story short, Avery has a cyst in his brain that is hereditary. From being a playful, rough little boy, the cyst has hemorrhaged and caused him severe sickness. The surgery went well but I can only imagine the terror and heartbreak this sweet family is experiencing.
Please say a prayer for Avery, his mom Jessica, grandmother Linda, and aunts Jen and Jeniece.