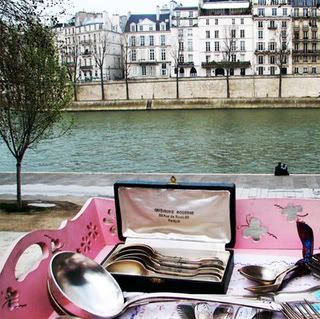 I peruse multiple blogs daily. They range from cooking, design, fashion...all the way to dieting. Therefore, I see many images daily. It's not often that a picture grabs me. Grabs me and just won't let go. This one did. I am feeling spring yearnings and this one caused them to mushroom out of control. I am envisioning setting a table with a shimmery pink cloth, a white soup tureen (to use the silver ladle in the picture), and serve peach bellini tea from the pink tray. All of this under my pergola of course.
The street vendors in Paris make my guts smile. Moseying along the riverwalk is an absolute favorite pastime. Well, one of them anyway. Viewing the bridges that span the river is life changing. (I have actually taken a couple of evening dinner cruises and viewed most of them first hand. Even the undersides are breathtaking.)
Pink, silver, the riverwalk, the Seine and architecture...a lethal combination in Paris.
Image via
apartment therapy