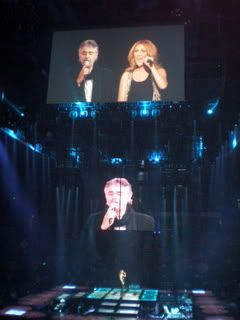 Look bottom center of this photograph. That tiny person is Celine Dion. This was my favorite portion of the concert I attended last week in Birmingham, AL. I am posting this picture to give you a sense of just how massive the set, arena, and jumbotron screens were. This is Celine performing "The Prayer" with Andrea Bocelli on the screens. It was indescribable.
Tayler's favorite Christmas gift was tickets to this concert. It was my 4th time to see her and I am more impressed with each "visit". We had excellent seats, the above shot was zoomed as far out as I could go to get the entire set top to bottom. The stage was "in the round" though square shaped, giving each side of the arena equal face time. It had 2 "arms" that actually extended into the crowd, one in our section, putting us literally 25 feet from her multiple times during the evening.
If there has ever been a performer that truly loves her fans and expresses that eloquently, it's she. She is very warm and interacts with her audience and when you leave, there's no doubt she appreciates her fans.
I'm just sure she and I could be bosom friends.