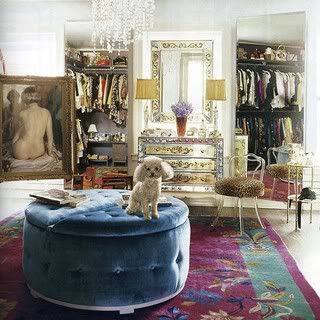 Image via apartment therapy
I absolutely want this dressing room. As in move in today. I am dead over the blue velvet ottoman (Lord, what all I could get into that thing). The nude is classic yet classy. The mirrored dresser, the chandelier, lamps and mirror take my breath away. Ummm, the dog would have to go to Mary.
When my youngest moved out, I created a "media room" of his bedroom. Tay and I simply love it and it ain't getting changed (no dressing room there!). Even if she were to move I'd never use her room. I love entertaining and will always have a guest bedroom. So, only way I'll be getting that gorgeous dressing area would be to add on. And that surely ain't happening any time soon.
I think I'll just use that "look" in my bedroom. Actually, it does favor my private domain. I'll move some pieces around. Give my vanity an update. Remove some access. Then hopefully this raging desire for THAT dressing room will quiet...