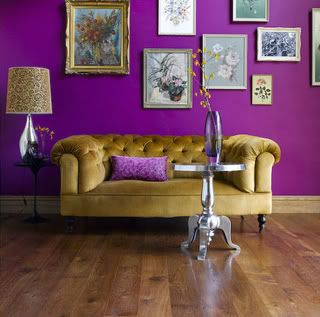 dan duchars
What a gorgeous color. My daughter Tayler has her room painted a deep eggplant, a richer version of this color. Anyone wanting art work like this? Multiple pieces are hanging on the walls of my booth at Antiques & More Fleamarket in Columbia, MS.
Tempts me to go bring them all home. 'Course I'd have to hang them from the eaves of my house since there are no walls left for artwork inside.=)
The tea table in front of the sofa has been painted silver. Love it. Tayler painted her bed silver also and it looks simply amazing. I have the lamp beside the sofa, though not that shade. My pair of mercury glass lamps with creme shades flank my bed.
Think I'll mosey down to Ace Hardware, my favorite place to spend a couple hours. I want...I
need
multiple cans of silver spray paint. What am I painting? I have no clue. But I assure you, something's getting sprayed!