There is more than one. But only one wins over all others. My visits of 2008 were wide and varied and I only hope to cover 1/2 the miles in this year as I did last year.
Paris? Indescribable. Germany? Breathtaking. Africa? The winner. Hands down.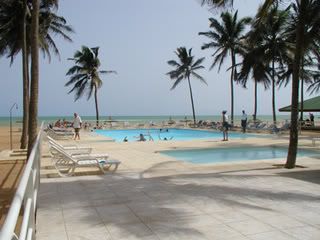 (Palm tree studded view across the pools to the Atlantic.)
The resort, the Hotel Casa del Papa in Ouida, Benin, West Africa is my choice of where to return. From the moment of arrival, I felt my inner most being begin to relax. I'm unsure if the break from the mind-numbing, spirit-disturbing country of Togo is the reason, but I truly don't think so. I absolutely loved sleeping with the sound of waves of the Atlantic crashing in. The swish of palm trees was comforting. The bungalows were crisp and clean with Egyptian cotton linens on tester beds and old Air France posters for artwork.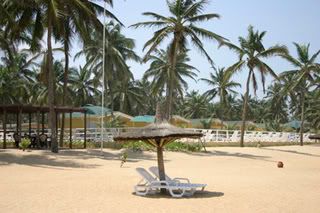 I lay for hours under this private low-hanging hut listening to the ocean, reading, and yes, napping. Ever so often a friendly employee asked if I needed anything. I had several Coca-Light.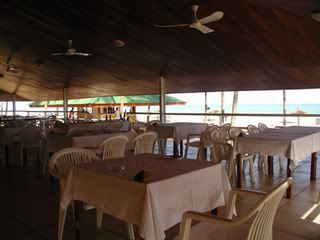 Dining here under a thatched roof as the sun faded and the pitch black night made the ocean invisible to the eye, was glorious. The fish was fresh and as tasty as any I'd ever consumed.
My new tradition is listing the places I visited during the year. An overnight stay out of the county I reside in qualifies. Notice that's c-o-u-n-t-y, not country.=)
Travels of 2008
Houston,TX
Jackson,MS
Atlanta, GA
Nashville, TN
Indianapolis, IN
Baton Rouge, LA
Paris, France
Lome, Togo, West Africa
Ouida, Benin, West Africa
Tupelo, MS
Biloxi, MS
Mannheim, Germany
Strasbourg, France (spent the day only)
Winston-Salem, NC
Chattanooga, TN
Covington.LA
Laurel, MS
I'm amazed that I hit 3 continents this year alone, with Africa being a first time continent. I begin every year wondering how I will manage a new city or country visit, and somehow....it just happens. May the force be with me yet again this year!