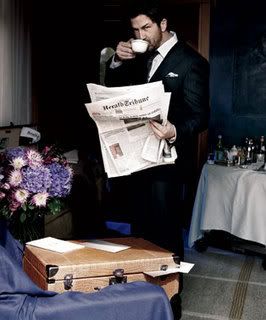 A picture says a thousand words. All of which I can't verbalize for now. Whew.
Shall I try? Is this a lobby? Restaurant? Hotel room? Is that a suitcase? Do I also see a briefcase in the background? Is the table from room service or last night's party?
All that and I haven't mentioned HIM. A suit, pocket handkerchief AND cufflinks. Reading the morning paper. Is it coffee or tea in that dainty cup? No time to shave. Did he have the flowers delivered? Were they for me? Hehe...
Mr. Gerard Butler is a multi-talented beautiful man. A man that can play the disfigured "Phantom" and the charming, thoughtful husband in "P.S. I Love You" has to be a romantic.
Ok. I'll stop now.