I had a German Chocolate cupcake from here...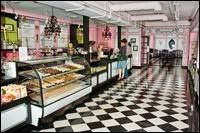 Sugarbaby's Cupcake Boutique
And a Red Velvet one from here...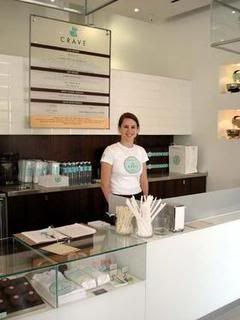 Crave Cupcakes
Both places were fantastic in their own right. Sugarbaby's was all fluffy, pink and apple green with black chandeliers. Crave was sleek, modern and served milk from old fashioned bottles.
Cupcakes have seen a revival as of late. Not so long ago, they were considered rather passe. They are now de rigueur, proof in the numbers of people in line and in the dining rooms at both establishments. I don't normally hit all the cupcake joints, but Jennifer, Tyler's sweet significant other ordered some from Sugarbaby's for his birthday. And when I saw Crave, I simply had to go in.
Oh the joys of the BIG city...